MIXED USE/GREAT EASTERN QUAYS
Workspace and leisure destination in the Royal Albert Docks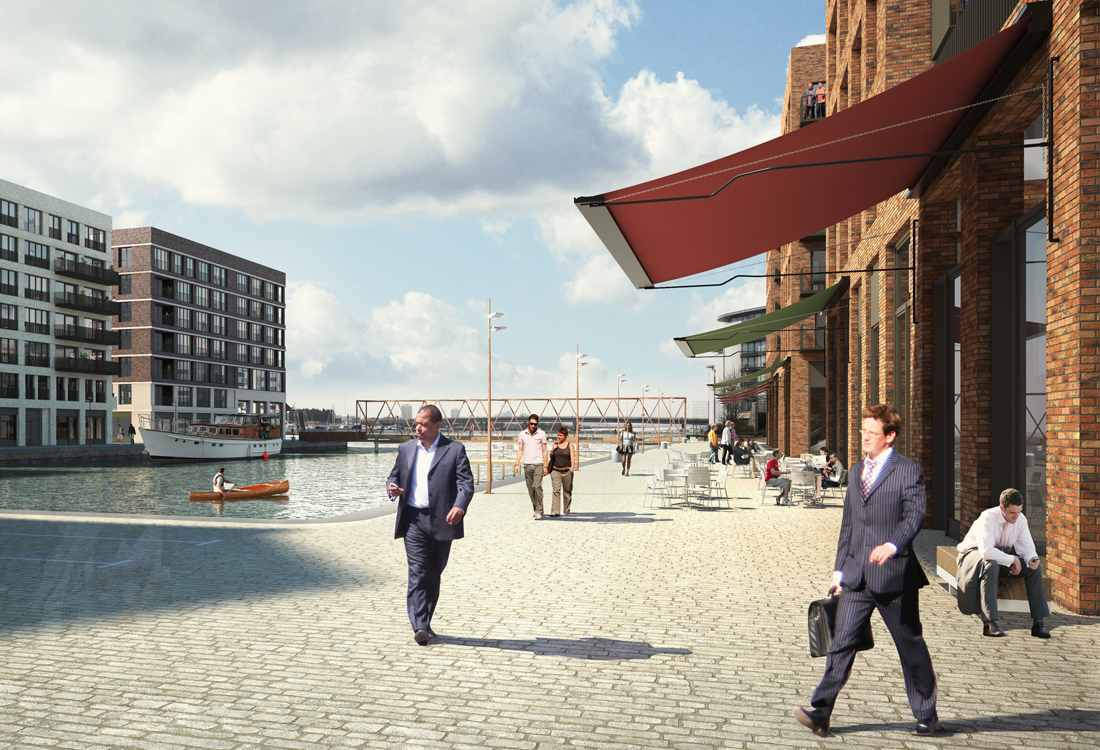 The Great Eastern Quays Masterplan, designed by Maccreanor Lavington, provides a new workspace and leisure destination wrapped around the impounding dock and historic pump house. This location terminates the important east-west route along the northern side of the Royal Docks and connects to the capital ring route around London. The spaces are designed with flexibility in mind to accommodate a range of users such as a cafe or restaurant, small start up businesses and facilities to support leisure uses on the docks. The work and leisure uses provided in the Great Eastern Quays masterplan complement the retail and community uses provided in the new local Centre in Gallions Quarter.
MIXED USE/BRENTFORD WATERSIDE
A new leisure and retail destination in Brentford
The mixed-use masterplan for Brentford Waterside includes up to 900 new homes located above new High Street retail, with continuous independent retail lining yards creating a variety of active routes to the River Brent. New cafe's, moorings and leisure encourage continuous. activity through the development at all times of the day and night. Maccreanor Lavington were responsible for the high street retail strategy which informed the structure of the masterplan as well as detailed design of the anchor food store in the first phase of development.
MIXED USE/GALLIONS QUARTER
New Local Centre and shopping parade next to Gallions Reach DLR
The residentially-led Gallions Quarter masterplan is structured around new traditional London streets off-set from new public open spaces. A east-west green route connecting to adjacent areas and a new Local Centre with community services and convenience shopping parade located in a new urban park under the DLR viaduct. The park provides flexible and adaptable public open spaces that can accommodate a variety of uses, including leisure, play and market. Maccreanor Lavington were both masterplanners and architects for phase 1 which accommodated a new local anchor food store and site management facilities.
MIXED USE/BREAM STREET FISH ISLAND
Mixed-use workspace hub close to the Olympic Village
The competition project by Maccreanor Lavington for the re-development of a brownfield site on the River Lee Navigation proposed a new commercial hub lining the edge of the site creating an active streetscape and open communal yard space facing the waterfront and Olympic village. The proposal sought to give back waterfront space for public use and create a strong business identity reminiscent of the old factory buildings that characterise this part of London. The upper levels offered dual aspect residential units with views across the Olympic Village.